Professional and business meetings in pleasant environment
 
The premises of the Partizán **** hotel provide the ideal base for a successful conference, workshop, corporate event or strategic meeting. Our success can be corroborated by the number of professional or teambuilding meetings provided by our hotel – we are flexible, precise, and responsible.
To organise your business stay in our hotel, in a pleasant recreational centre Tále in the Low Tatras is a step benefitting our customers.
We invite you and your team to spend a few extraordinary moments at the Partizán **** hotel. We will give you 
Why should you organise your event at the Partizán**** Hotel?
1.      Stylish conference facilities - area of 1000 square metres, variability of arrangement, new audiovisual technique, foyer for exhibitors patio with panoramic vistas, a separate bar, the largest conference hall with a capacity of 450 seats, registration, dressing room
2. Generous accommodation capacity – 86 double rooms, 18 suites, more than 300 beds
3. Proven quality – flexibility in providing services, friendly trained staff, precision, responsibility, individual approach
4. Miscellaneous Sports & Recreation area – own MÝTO SKI & FUN centre, Gray Bear golf course, Tarzania – mountain rope park, beach playing area, natural swimming pool, area for ball games, sitting at the grill, hiking and biking trails, horseback or pony riding
5. Tálska Bašta – architecturally magnificent restaurant, live music, experience gastronomy
6. Nature Wellness Center - stylish area of 2255 square metres, independent reception, a full range of massages, hydro massages and treatments, professional wellness team
7. Limbus – night bar, bowling, billiards, DJ
8. Multifunctional sports hall – various sports activities under one roof
9. Panoramic hotel restaurant – capacity 230 seats, exclusive wine cellar with 150 types of wine, spectacular vista, directly connection to the hotel patio
10. New! Audio-visual and technical equipment – sound system, projection, air conditioning, blackout curtains in rooms with daylight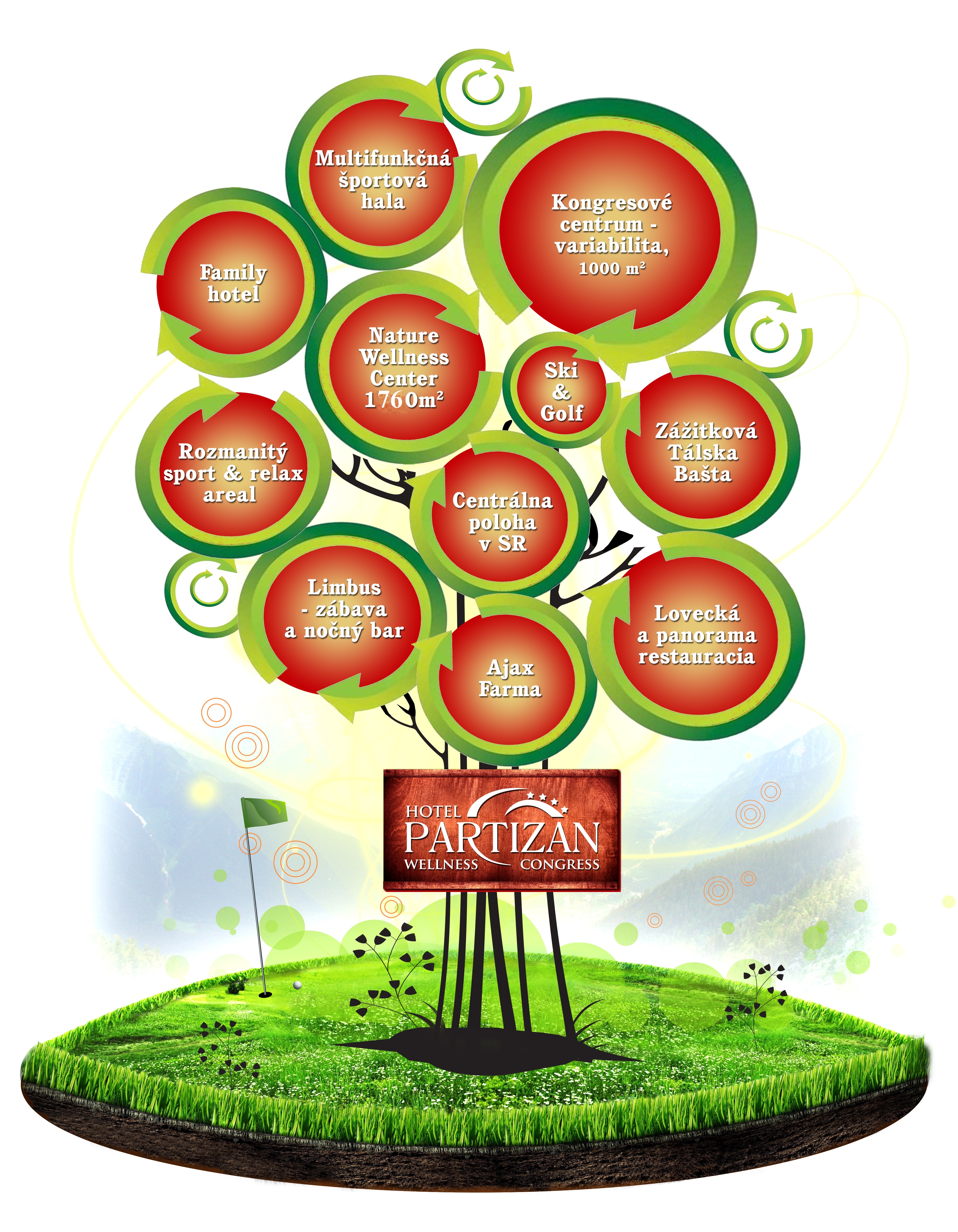 If you are looking for representative conference rooms for business meetings with your partners in the Tatras or you want to organise congress, event or training course,
PARTIZÁN****hotel is your perfect choice.
Stylish interiors and gastronomy at the highest level will guarantee your joyous time.